Maniac Magee
Written by Jerry Spinelli
Reviewed by Shivani.S (age 11)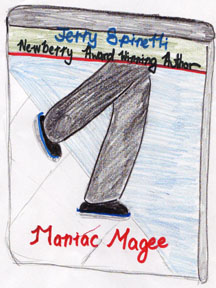 This story is about a boy named Jeffery who runs away from home. When his parents die, he is forced to live with his aunt and uncle, but it doesn't feel like home. He just runs and runs without stopping and ends up in another town. This town is divided between the whites and the blacks. While running into the town he met lots of people and just said "Hi." No one knew him and thought 'Why did he say 'hi' to me?' While in search of a home, Jeffery stayed at the zoo. He was later named Maniac Magee because of all the crazy things he did. Maniac also encounters many kids and adults, but will he ever find a home where people will consider him as their own? Read and find out.
In my opinion this is a very interesting book because it feels like you are the main character, Jeffery who wants a home with love and affection. The author also puts you in a mood of suspense because we want to know what is going to happen to the main character.
My favorite part of the book was when Maniac Magee unknotted the Cobbler's Knot. The Cobbler's Knot is a huge knot, which was impossible to untie until Maniac did. This book is similar to another book that I've read because the characters in both books run away because they don't feel like they are a member of their family. Maniac Magee made me think 'what is going to happen next? Will Maniac be alright or will something tragic happen to him?'
I recommend this book because it is full of surprises and suspense. The readers might have similar experiences as the characters. Maniac Magee is a perfect book for anyone who is adventurous and it's a great book for all ages. I bet the part about the Cobbler's Knot would interest the reader's the most because of the time and patience it took Jeffery to unknot it.