The Pearl
Written by John Steinbeck
Illustrated by Jose Clemente Orozco
Reviewed by Alana D. (age 10)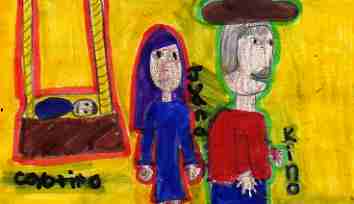 Do you like scary and sad stories? Well, you should read this story. It's about a poor family with three members - the mom, the dad, and the baby. The dad's name is Kino, the mom's name is Juana and the baby's name is Coyotito. Kino dove into the water to find a pearl. He had found a lot of clams. He only opened one clam with a pearl inside. See what happened to Kino's family and why he got the pearl.
I liked this book a lot because I thought it was beautifully written. My favorite part of the story was when Kino found the pearl and it was glowing through his hands. I thought Juana was a very interesting character because she was always correct. There are illustrations and they are abstract and black so the book is not really colorful.
I recommend this book to kids ages 7-11 because it is interesting and it is kind of touching. I think they will like the way Kino searches for pearls because they are so precious and hard to find. It is sad and a bit scary, but it is very good. The Pearl is my favorite book I've ever read.