The Snowy Day
Written by Ezra Jack Keats
Reviewed by Kaytlin M. (age 6)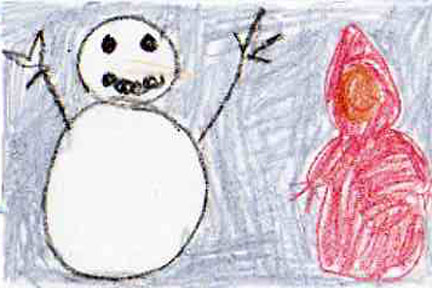 The Snowy Day is a picture book about a little boy who wakes up one day and looks out his window and sees lots and lots of snow. He is so excited and after he eats his breakfast, he gets into his snowsuit and goes outside to play in the snow. He doesn't have a friend with him, but he has fun making tracks in the snow and using a stick to smack a tree full of snow. He makes a snowman and snow angels!
I don't get to go see the snow very much, but this book reminds me of when I went to New York on Halloween and it snowed and snowed and snowed. It was so snowy I couldn't walk in it to go trick or treating!
My favorite part of the book is when Peter is making snow angels in a snow bank. I like it because you get to see Peter on his back in the snow making the snow angel and then you see the angel that he made when he's not in the snow. His snow angel even has a pointy hat just like Peter's! I made a snow angel once, but it didn't look as good as Peter's.
I like the pictures in this book, too. Peter's red snowsuit really stands out in the snowy pictures. My favorite picture is of a big pile of snow falling onto Peter's red snow hat! It's funny because one of his eyes is closed and the other one is looking up at the snow that fell on his head.
If you like to play in the snow and if you want to see great pictures of Peter in his red snowsuit, then read this book or have it read to you! If you don't get to see snow very much, you will like seeing it in this book! The pictures are really filled with color even when Peter is outside in all of the white snow.