Oh Say, I Can't See
Written by Jon Scieszka
Illustrated by Adam McCauley
Reviewed by Brook H. (age 9)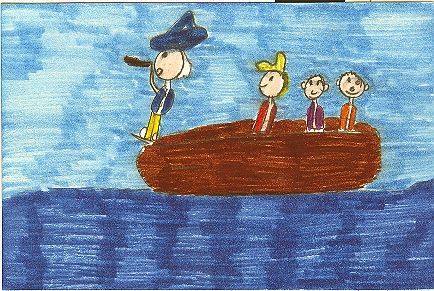 Samantha, Joe and Fred got zapped in to 1776 where George Washington was going to cross the Delaware River. Samantha lost her robot cat, Rivets. There they met three soldiers as they held their rifles at their necks. So the lead soldier said, "Get going up there to that house." They heard a noise it was coming across the river. It sounded like this mewwwwrrrrkkkkkkkkkkkk. "Rivets!" Samantha yelled. Samantha showed George Washington her plans to sneak up on the enemies. Christmas Day started gray and not at all sunny. Soldiers wore all different kinds of outfits. It was Colonel Knox. He owned the artillery. Read this book to find out if the Time Warp Trio meets George Washington and they get back home safely!
This story has the same characters as Knights of the Kitchen Table by Jon Scieszka. My favorite part of this book is when they were riding on the boat. I think it would be fun to ride a boat like that. I really liked the illustrations because they helped to imagine what was happening in the story.
I think kids who like history should read this book. It has a lot of interesting facts about things that happened a long time ago.