The Good, The Bad and The Goofy
Written by Jon Scieszka
Illustrated by Lane Smith
Reviewed by Desarae M. (age 9)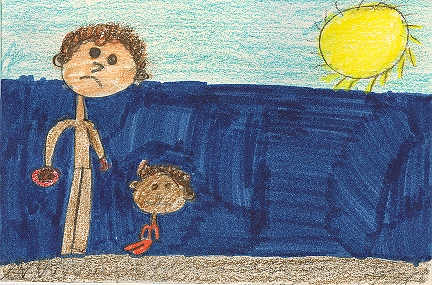 Fred, Sam, and Joe were watching Cowboy Bob to the Rescue when a green mist comes up and they disappear. Fred, Sam, and Joe find themselves in Cheyenne country and they meet up with some people. They asked the people if they knew where "The Book" was and they said that they don't read books. Suddenly a stampede of cattle was coming. The boys start running and they fall into a river and they were floating. Joe suddenly woke up and a guy was standing with moccasins and a cowhide shirt and took Joe to where Sam and Fred were. He started cutting up some stuff that tasted like old sneakers. The leader gave Fred "The Book" and the boys were happy. Read this book to find out if they make it back home safely.
I think this book is funny and I did like it because it is good to read. I liked the part when Sam thought the guy was going to scalp him. I liked the character Fred because he is funny.
I think my friends should read this book because it is funny.