Marco? Polo!
Written by Jon Scieszka
Illustrated by Lane Smith
Reviewed by Carlie D. (age 9)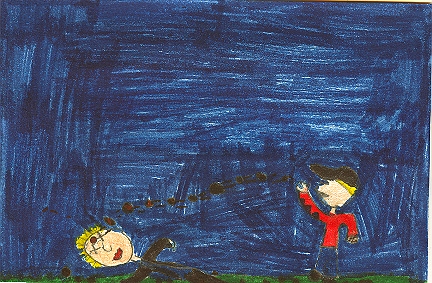 Sam, Fred, and Joe were playing Marco Polo and Joe was it. He kept on saying "Marco" but no one would answer. When he opened his eyes, no one was there and he was in the sand. The Book warped Joe between Italy and China. Joe was in the desert and met Marco Polo on a camel. Joe lost the book and asked Marco Polo if he saw it. Then the camel tumbled when Joe and Marco Polo were riding it. Joe was in a different spot because there was a big sand storm. Joe found Sam and Fred and then Joe asked them to help him find the book. They looked for it but couldn't find it. The Polo's asked Joe what he saw in the future and he said something that came to his mind. The Polo's and Joe, Sam, and Fred found a palace and met a man the Polo's knew. Sam, Joe, and Fred thought that Kublai Khan had the book but they didn't know how to ask him for the book. Kublai Khan said that they had to get the book from a royal astrologer. Sam, Fred, and Joe really found the book but they can't get it yet. Joe has to tell the future but he won't unless he sees the book. Ding Dong has a to get rid of Kublai Khan. Sam, Fred, and Joe warped home. Read the book to see if they warped home safely.
My favorite part is when Ding Dong had a plan to get rid of Kublai Khan. I liked that they were working together. This story reminds me of Knights of the Kitchen Table which is by the same author. The same boys are in both books. Joe is my favorite character because he is the leader of the group.
I think people who like funny books should read this book. It will make them laugh.