Summer Reading is Killing Me
Written by John Saeszka
Illustrated by Lane Smith
Reviewed by Daneen W. (age 9)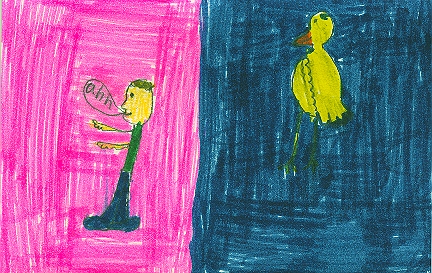 Fred, Sam, And Joe were stuck in a book. They had to find all characters and put them in the right books so they go to the library and find the books and find their own book. Then a giant chicken chased them. Fred found the books they had to get so Sam told Fred to distract the chicken while he got the book. Fred went to distract the chicken. Then Sam got the book and he said some words and they were home.
This book is not like any other book I have read because this one was about time traveling and I have never read a book about traveling through time before. One of the characters I liked was Joe because he is just like me because he is funny and likes to tell jokes and so do I. My favorite part of the story was when Fred, Sam, and Joe were chased by a chicken because it was funny.
I recommend this book to ages 9-10 because it is funny, silly, and crazy.