The Secret Life of Amanda K. Woods
Written by Ann Cameron
Reviewed by Lauren Z. (age 10)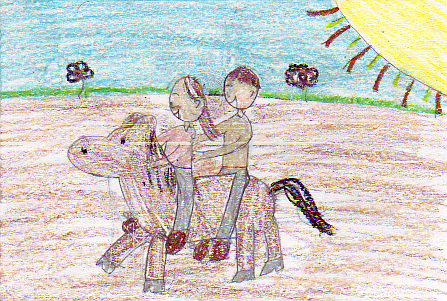 When it comes to horse riding, Amanda's the best. But when it come's to making friends Amanda needs some help. Once Lyle Leveridge (Amanda's old best friend) moves away to Montana., Amanda is torn apart. Amanda tries to be friends with Pam Collins, but Pam doesn't really like Amanda. Even Amanda's mom thinks Amanda is average and Amanda's sister, Margret is so perfect! But will Amanda make friends and be perfect enough for her mom? Read the book to find out!
My favorite part of this book was when Amanda went horse riding with her pen pal, Antoine, because to me it actuly felt like Amanda had a friend. My least favorite part of this book was when Amanda's mom called Amanda "average" and Amanda's sister "perfect" because to me it feels like Amanda's mom doesn't like Amanda at all. I felt really sorry for Amanda. My favorite character in this book is Amanda's dad because he tried his best to be by Amanda's side whenever she needs someone to talk to. I loved this book because it has detailed description and really explains the characters feelings. It will keep you turning the pages until you get to the end of the book!
I recommend this book to both girls and boys, ages 10-11. Younger children wouldn't be able to understand some of the words and meanings in the book. The author tried to teacher her readers to always be kind to other people. Have fun reading this book!