Titan's Curse
Written by Brandon Mull
Illustrated by Brandon Dorman
Reviewed by Michael R. (age 10)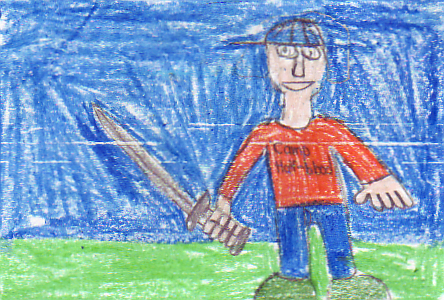 12 year-old Perseus Jackson has a hard life, but when a goddess goes missing it is up to Percy and his friends to save her before Kronos, the evil titan lord, rises and kills them all. They will have to cross the country while battling deadly immortal monsters that can track Percy down by his scent, and being a son of one of the big three gods (Zeus, Poseidon and Hades). Percy isn't sure he can that do it. Will Percy save the goddess?
I liked this book because the series is fun and interesting. It also has funny chapter names like; "I Put on a Few Million Extra Pounds" and "I Go Snowboarding with a Pig". The cover picture is cool because it shows Percy on a flying horse on top of a building and it has dark colors. This book is similar to the other books in the series because Percy is always in danger of dying. I like Percy because he thinks on his feet. For example, he captured the sky when Atlas, another titan lord, was charging at him. His quick thinking gave his friend, Annabeth, a chance to attack Atlas.
I recommend this book to anyone who likes action or adventure stories and is ten to twelve years old. It does have some words that are hard to understand and the story can be a little complicate for younger readers. If you think wild animals will kill you, think again and read this book!!!