Ender's Game
Written by Orson Scott Card
Reviewed by Matthew M. (age 9)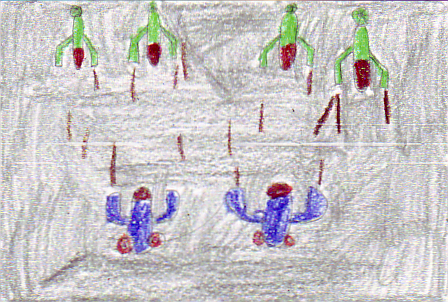 Earth is under attack! The only solution is the six-year-old genius Ender Wigin. He needs to save earth against the evil buggers. First he needs to go through battle school where he meets new enemies, new friends, and new challenges. Ender soon finds that being a commander, is goal of battle school, is not as easy as he thought. Kids in battle school used to pick on Ender. Eventually, they learned to worship him because he becomes the unexpected. Will Ender take charge?
In this book, the characters are very unique. For example, Ender had a huge fight with his own commander who was four years older. The setting of the story is also very different because it takes place in the future and everything is futuristic. Ender changed from being a little kid who everyone picked on, to a big kid that everyone knew and respected. They eventually wanted Ender to teach them his skills. He made unthinkable progress in battle school and became a commander. There were some parts in the story that made me laugh, feel sorry for a character, and made me think "Man, that's gotta hurt". It also made me wonder "Is life in the future going to be like this?" My favorite part was when Ender was in battle school and became a commander. He was given the new inexperienced soldiers and still won all of his battles, even when he was facing two armies at once. He became known all over battle school.
I recommend this book because the author used great elaborate detail allowing me to see a full picture in my head. Orson Card made me feel like I was in the book with Ender and battling other armies. I recommend this book to kids mainly in fourth through eighth grade that love great novels and great adventures.