Frindle
Written by Andrew Clements
Illustrated by Brian Selznick
Reviewed by Cillian D. (age 10)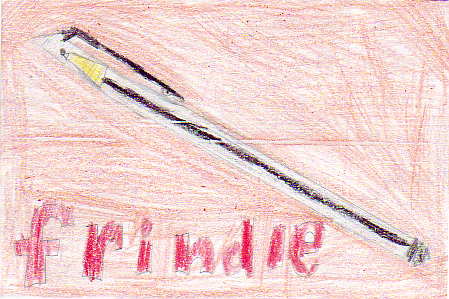 Nick Allen is inventing a new word for "pen". That word is "frindle". Nick is causing trouble at his school because everyone wants to use this new word. His teacher adores the dictionary so she was not happy about this. Of course, the word "frindle" is not in the dictionary. She made hundreds of kids stay after school and write sentences because "frindle" was being used too much. But that didn't stop anything! Frindle was being heard everywhere. Will Nick or his teacher get their way?
I liked this book because it was a twist of humor and realistic fiction. Andrew Clements made the situation into a battle of Nick verses his teacher. For example, the principal was called the "queen" in the story, and was the most powerful player in the battle. Andrew Clements made the book come to life. You could picture the story like you were right there watching a movie. For example, when the principal came to Nick's house to speak to his parents about the problem at school, I could see the principle clearly. My favorite part is when Nick makes up the word because it started the whole commotion. This book is like other Andrew Clements books like the Janitor's Boy because it's descriptive and doesn't let you put it down.
I recommend this book for kids who like realistic fiction and that are in grades three and four. If they have read other Andrew Clements book, they will most likely enjoy this story. The wording is too easy for fifth graders and it might be to hard for second graders. Second grade teachers might want to read this book aloud to their class. Andrew Clements taught me never to give up on your dream or change because of what other people say.