The Sisters Grimm: The Fairy Tale Detectives
Written by Michael Buckley
Illustrated by Peter Ferguson
Reviewed by Blaine L. (age 9)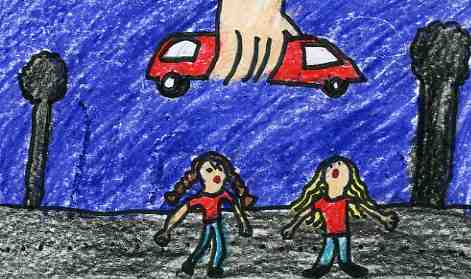 When Daphne and Sabrina Grimm get adopted by a lunatic who claims to be their grandma, they think their lives will be miserable for ever. "Granny" thinks fairy tales and giants are real, she makes the strangest food, and so on. Then when she gets carried off by a giant and the girls are left alone with an evil fairy tale character who is threatening to kill them, they discover fairy tales and giants are real! Can they save their grandma – and themselves – before its too late?
I think this book is wonderful. I like how the author shows the true meaning of family. I have a little sister too and Sabrina reminds me of myself sometimes. I like how Daphne and Sabrina always forgive each other and how they work together to solve problems. When I read the book, I felt like I was really there watching it all happen.
I recommend this book to kids ages 7-11 because it is a mix of magic and reality, enough to interest both kinds of readers. It is a great book for teachers to read to their class or for older kids to read to younger kids. This is a very exciting book for anyone!