Amber Brown Sees Red
Written by Paula Danziger
Illustrated by Tony Ross
Reviewed by Christina B. (age 9)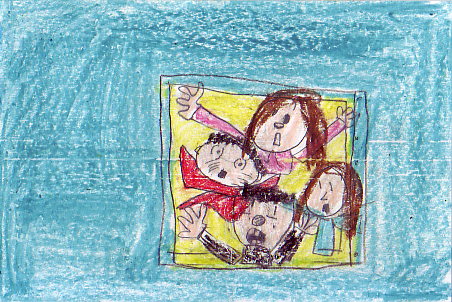 Amber Brown is having a hard time because her dad is moved to Paris and her mom likes this other guy named Max. Amber's parents are divorced and her mom and Max are planning to get married. Amber is not so happy because she's hoping that her parents will get back together. When a skunk stinks up Amber's school, school has to be canceled. Max comes to pick up Amber and her friend Brandi. They all go to the mall together to hit the arcade and have lunch at the food court. Amber and Brandi ask Max to be their bowling coach. Amber starts to feel closer to Max. Then Amber finds out that her dad is moving back from Paris. Now she feels very confused. How will everything work out for Amber Brown?
I like this book because Amber Brown is just like me. She has a great personality. She's kind and doesn't make fun of anybody. I feel bad for Amber because her parents are divorced. My favorite part of the book was when Amber's mom announced she was getting married. I was thinking that Amber might be the flower girl. The author did a really good job using descriptions to make the story interesting, especially the part about the skunk smell in the school. I will continue reading books by Paula Danziger because I really enjoy this series.
I recommend this book to girls in second to fourth grade because it would be an appropriate level for that age. Girls who enjoy reading books about other girls their age and/or humorous fiction will like this book.