The Pen is Mightier than the Sword
Written by Anne Mazer
Illustrated by Anne Mazer
Reviewed by Cristina M. (age 9)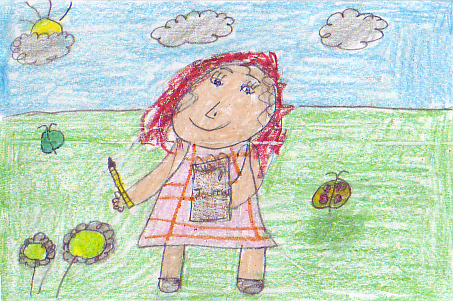 Abby LOVES to write! She is constantly writing in her own journal. Abby is so excited to be writing in the "advice column" for the fifth grade newspaper. However, she did not realize that it would get her into trouble. For example, she upset her teacher when she gave advice about another student's problem. How can she give advice when her own life is out of control? Abby runs into some other problems. Is Abby going to quit writing the advice column?
My favorite part about this book was when Abby found out that she was picked to write the advice column in the fifth grade newspaper. I felt so happy for her! I could see how wonderful it would be if I were writing the column. I found out that Abby is an interesting person in this book, because she has a totally different personality then all of her friends and family. Abby knew what was going to happen after her actions. For example, Abby knew her advice column would get her into a lot of trouble. Abby always knows! There are illustrations in this book. The illustrations are detailed, descriptive and they look realistic like a 4th grader wrote the part in Abby's journal. This book is part of a series called The Amazing Days of Abby Hayes. You can really get sucked into reading these books. I love this series!!
I recommend this book for people ages 8-11. I think that someone who has a journal or diary, or someone who truly loves to write, will enjoy this book. I thought it was AMAZING! Go ahead and read The Pen is Mightier than the Sword. I'm sure you'll enjoy it!