Class Clown
Written by Johanna Hurwitz
Reviewed by Sarah A. (age 10)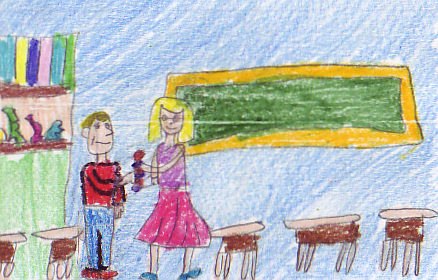 Do you like to make trouble? Well, Lucas Cott loves to in Class Clown by Johanna Hurwitz! Lucas is one of the smartest kids in the class but he does crazy stuff that can make you fall off your chair. He doesn't mean to be the class clown. When Lucas gets on his teachers nerves he gets a note sent home to his mom. This happens just about every day! His parents get very mad when they get the notes from his teacher. Lucas tries to make things better and is determined to be a "teachers pet". He even makes new friends. His teacher doesn't know what's going on! Every time the teacher sees someone doing well she gives them a pencil. Is Lucas going to get a GOOD note home to his parents and a pencil, or is he going to get back on the wrong track?
My favorite part of the story was when Lucas was being very nice because his brother was crying during his haircut. Lucas tickled him and he started laughing. Lucas did a good deed. I like this book because it reminds me of my brother, CJ. He is always getting in trouble like Lucas. For example, they both to mess with their teachers minds and don't really pay attention in class. Lucas changes though out the story. First, he was a troublemaker. Than he started to try his best! I can relate to that because when I was in kindergarten, I was a teachers pet. Than when I was in third grade I started to become trouble. This book was exciting and made me ask myself a lot of questions. For example, "how did he do that", or "what is he going to do". Sometimes I would just wonder if he was going to act correctly in school.
I recommend this book to boys and girls who are in third or fourth grade because it is a good book level for them. If you like comedy, then this book is for you. If you like sad stories, don't read this book. Troublemakers should read this because it gives them good prank ideas. I love the ending and I'm pretty sure you will too! You should go to the library right now and start reading this book!