Diary of a Wimpy Kid
Written by Jeff Kinney
Illustrated by Jeff Kinney
Reviewed by Marisa L. (age 10)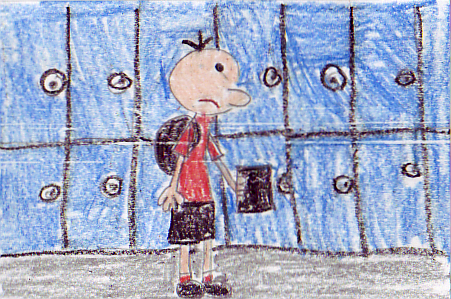 All Greg Heffley wanted is to be popular in middle school. He tries his best to be cool with the other kids, and really wants girls to like him. In order to fit in, Greg tries to design a comic strip with this friend. Unfortunately, Greg runs into some problems. Greg's mom wants him to write in a diary. He thinks it's a silly idea to write in the "stupid dairy", but he does it anyway. This book proves that its okay to be who you are!
My favorite part of the book was when Greg's neighbor Fregly made up this weird language when he stated screaming the word "juice, juice, juice", during a basket ball game. The coach got a little nervous and started giving him some medicine. That made me laugh so hard but I knew that what Fregly was trying to say was "bathroom, bathroom"! When I finished this book I thought "wow" this book is great. Jeff Kenny, the author, adds a lot of interesting details about Greg's life. I really enjoyed this book. There was nothing I didn't like. The illustrations in this book are very funny. I love the way Greg Heffley draws in his journal. For example, he draws the students in his class with big noses and beards. Every character looks different and very distinguished. My favorite character is Greg because everyday something interesting happens. I never got bored while reading this book. The author digs very deeply into Greg's feelings and thoughts.
I would recommend this book to people of all ages who love to laugh. Why? Because this book has lot of funny parts. People might consider reading this book because the characters are interesting to learn about. It is humorous and enjoyable to learn about Greg's problems in middle school. I recommend this book to kids in third, fourth, and fifth grade.