Devil's Bridge
Written by Cynthia DeFelice
Reviewed by Logan F. (age 9)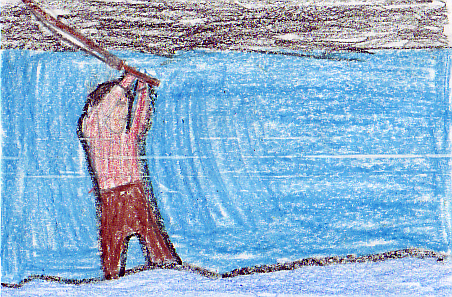 Devils Bridge is a fascinating fishing story about a 13-year-old named Ben Dagget. In order to save his fathers fishing record from two cheaters who are trying to get the $1,000 prize money, Ben has to catch a 66 pound 12 ounce fish. He'll risk his life to do it. It's hurricane season and that's how his father died, but brave Ben keeps fishing. Can he save his fathers record? Ben learns a lot about himself throughout this book. Read find out how.
My favorite part of the story is when Ben and Jeff, Ben's best friend and fishing partner, are fishing and a school of Striped Bass swim by. It was their big chance to catch a huge fish. I really don't like it when Ben finds out his dad's record is broken, because it makes me worry about if Ben can get the record back. I thought this book was fishing sensation. It was great book of surprise, action and detail. I found the character of one of the cheaters very interesting because he was always acting suspicious. For example, he kept appearing everywhere and in the shadows of the piers and docks.
I recommend this book to people who like fishing because there are many fascinating fishing events and scenes. I think kids in grades 4 and 5 would enjoy this story. This book is suspenseful and will make you think about what might happen next. I loved this book so much I read it twice! Wait until you see what happens at the end. Go read it now!