Diary of a Wimpy Kid: Rodrick Rules
Written by Jeff Kinney
Reviewed by Lauren A. (age 9)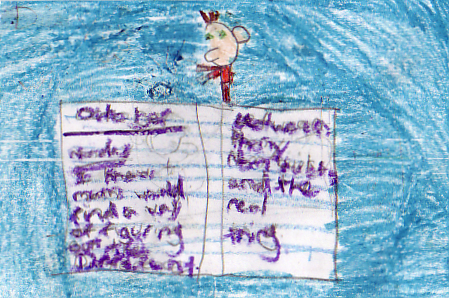 Do not ask Greg Heffley how he spent his summer vacation because he surely does not want to talk about it! Greg doesn't want to think about his vacation, as he walks step by step up the school stairs on the first day of the new school year. Greg wants to put his summer behind him. The author gives his readers more information about his horrible summer vacation throughout most of the book. Unfortunately, Greg's older brother Rodrick knows about one embarrassing secret and is holding it over Greg's head. He won't let go or move on. The bad part is secrets like Greg's have a way of getting out, especially when they're written in a diary.
My favorite part of the story is when the secret got changed around as it was told from one person to another, just like the game of "telephone". I thought Greg was going to be very embarrassed. Luckily, the secret made it back to Greg without him being humiliated. This reminds me of when I had a big secret and it was very embarrassing. My brother told some of his friends and he changed the secret around. I like Greg best because he really shows character and makes a decision easily (although sometimes without thinking about it first). For example, when Rowley, Greg's best friend, got in trouble for something Greg did, Greg was the honest person and told the principal it was really him. This reminds me of my brother because if he wants to do something he knows is wrong, he will just go ahead and do it anyway. After reading this book, I learned never to keep something your little brother gives you. You'll have to read the book to find out why!
I recommend this book to people that like funny books because Diary of a Wimpy kid is a hilarious story. I also recommend this story to grades 4-6 because it is a bit hard for younger students. This is mostly a good book for 6 graders because Greg the main character is in middle school.