You Can't Eat Your Chicken Pox, Amber Brown
Written by Paula Danziger
Illustrated by Paula Danziger
Reviewed by Gina T. (age 9)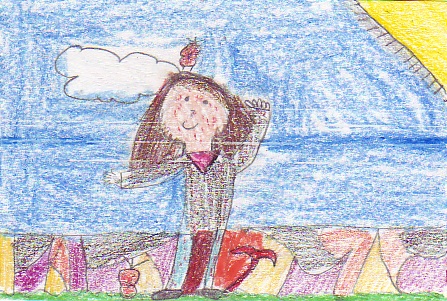 Amber Brown's best friend, Justin, has moved far away. What will Amber do without her partner in crime? Her teacher wants Amber to stop thinking about the situation. In order to help Amber get Justin off her mind, she focuses on thinking about her upcoming busy summer. She is excited to go to London with her Aunt Pam and then go to Paris to meet her father, whom she has not seen that in a long time. Will Amber's summer vacation be any fun without Justin?
My favorite part of this book is when she gets attacked by birds. While in a park in London, she pours birdseed all over her arms, head, and legs. The birds land on her to eat the seeds. I think that is really funny. I like about this book because it has a lot of funny parts. For example, Amber and her Aunt Pam go in elevators in the lobby of her Aunts apartment and they say "Elevators HOOOOO". Throughout the book, every time they get into an elevator, they say the same thing. Something I find unique is whenever Amber calls her dad, they have a funny conversation about making kissing noises. I don't think a lot of people do that. This story reminds me of when my little brother Gino and my two cousins Erika and Justin had birds on there heads and there arms, just like the cover of the book. I think Amber Brown is very adventurous because she is always traveling and doing things that will get her in trouble.
I recommend this book (and the Amber Brown series) to girls and some boys in grades 2-5 because I think this is an easy read. I think Amber Brown books are really fun! I enjoy this book because Amber bounces back and forth with her adventures. There are so many! Go read this book right now!!!