Matilda
Written by Roald Dahl
Reviewed by Emily R. (age 10)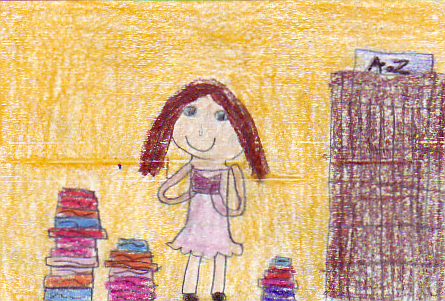 Matilda is a mind-bobbling page-turning book by Roald Dahl. The evil headmistress Ms. Trunchbull strikes to try to band every kid in the school because she hates children and will do anything to get rid of them. When Matilda comes along, the Trunchbull's first thoughts of her is 'bait!' Soon, Matilda uncovers a mystery about the relationship between the wonderful teacher Ms. Honey and the horrible Ms. Trunchbull. Will the mystery be solved or will someone stop Matilda?
I think the most interesting characters are Matilda's parents. They are so strange! They adore their older son but for some reason hate Matilda! Every day when Matilda was young, they left her alone, while the older brother was at school, and the parents were just hanging around at different places. In my view, I think Ms. Honey, (Matilda's teacher) is the best character of all. She was so nice to her class and especially Matilda because she was different in so many ways. Matilda probably read as many books as a fully-grown adult! Ms. Honey was also nice to Matilda because she let Matilda come to her cottage to have tea to save her from dealing with her parents. I thought that was very nice of her. My favorite part was when Matilda stuck up for herself to Ms. Trunchbull. She made sure she didn't back down. I loved that part because you know from the description and actions of her that Matilda is a shy little girl, and she changes her attitude completely by having a fight with Ms.Trunchbull. I think Ms. Honey changed the most because when Ms. Trunchbull ruled the school, she made sure nothing went wrong. When Ms. Trunchbull left, she was much more easy going and didn't fear for her class.
I recommend this book to girls because many of the situations in the book would probably be found in a normal girls life. I think ages 9-14 would enjoy this book because of the fights, drama, and language. People that love reading will like this book, because Matilda read so many books, and names the titles of them like Oliver Twist, The Invisible man, and Animal Farm. People who love reading would know those titles. I know that I loved this book and I hope you like it too!