Happy Birthday, Josefina!
Written by Valerie Tripp
Illustrated by Jean-Paul Tibbles
Reviewed by Karen H. (age 8)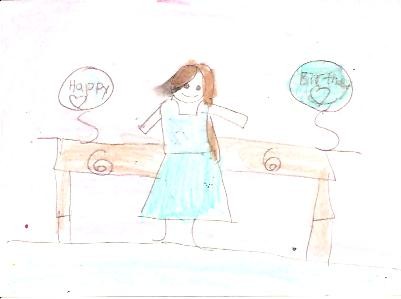 Josefina's life is changing because her aunt and grandma are coming to visit. When they arrive, Josefina's sheep dies when giving birth to her lamb. Josefina decides to take care of the lamb and protect it. Josefina wants to be a curandera because she wants to help sick people be healthy. Josefina tries to prove to her grandmother that she can be a curandera. But Josefina ends up breaking a jar her grandma loves. Josefina feels bad and starts to cry. She runs to a tree and climbs up it. Her grandmother forgives her and tells her she can be a curandera in a few years. Then the next day, she has her birthday. When it was Josefina's birthday, she got pretty clothes and had a great time with her family. The lamb Josefina protected ran and then jumped on her cake! Josefina started to laugh so hard she cried!
My least favorite part is when the sheep had a baby and then the mother of the baby sheep died. I did not like that part because it was sad. My favorite part was when Josefina wanted to be a curandera because she likes people and wants to help people that can't afford operations. I really like this book because it talks about Josefina's birthday and all the adventures she had.
I would recommend this book to someone whose birthday is coming up, my little sister Kiara, because it would be special to read about Josefina's birthday.