The Girls' Revenge
Written by Phyllis Reynolds Naylor
Reviewed by Steven T. (age 9)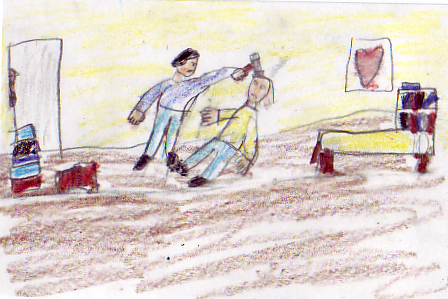 The Hatford boys and the Malloy girls have been fighting since the girls moved in next door. Now it's Christmas and Caroline has a trick up her sleeve. However, she has to be nice to Wally in order for it to work. She goes too far and she becomes Wally's partner in a school project. Meanwhile the boys are spying on the girls and are surprised to find Caroline hit Beth her sister with a hammer which, of course, was a staged trick. What prank will they pull next? Read the book to find out.
My favorite part was when Wally gave his underwear to Caroline because she had worn them and she had put a smiley face on them. But it accidentally ended up in their teacher's hands. I thought it was funny because of the thought of how embarrassed Wally was. This book is part of a series about the Hatford boys and the Malloy girls who are always fighting. This one is like the others because in the other books each side gets at least one chance to get even with the other side. But as the series progresses it's changing because in the earlier books the boys and girls fought more and didn't care about each other at all. Now they're starting to like each other, especially Josh and Beth. If these girls lived next door to me I would go crazy because they are the weirdest girls I've ever heard of! They would always torment me. I couldn't go out side without them pulling pranks on me and with Caroline there's no limit to what they'll do! I thought this book was one of the funniest books I've ever read! The kids do all they can to make the other side miserable. For example, when Wally was interviewing Caroline, he asked her things like "Have you ever up-chucked?"
I recommend this book to kids ages 8-10. Younger kids might not under stand some parts. It also should be read by people who love humor because the kids in this book pull the funniest pranks. It is good for both boys and girls.