Happy Mother's Day!
Written by Deborah Hautzig
Illustrated by Normand Chartier
Reviewed by Dayanna L. (age 8)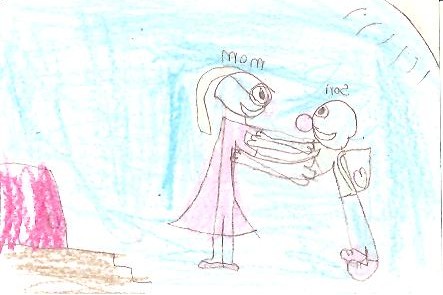 Grover made a heart for his Mommy. Then he wanted to give her another gift. Then Grover asked his friends if they had gifts, but they didn't. Then Grover walked home. He saw his Mother and she said, "What happened Grover?" Then Grover told her he made a heart for her but he wanted to get another gift. Then his mom said "It's okay, I like this heart." Grover's mom gave him a big kiss.
My favorite part was when Grover told his mom that he wanted another gift for her and Grover's mom said she liked the heart. Then Grover's mom gave him a big kiss! I liked this because it was a loving part. I love this book because I read it at bedtime and it makes me feel sleepy.
I recommend this book to my two cousins Joseph and Omar because they like their mom. I would also recommend this book to people who love Sesame Street.