Officer Buckle And Gloria
Written by Peggy Rathman
Illustrated by Peggy Rathman
Reviewed by Calvin T. (age 7)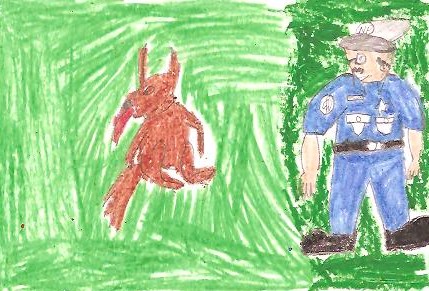 Nobody ever listened to Officer Buckle. Every day when he gave his safety tips, everybody would either fall asleep in their chair or they would throw paper airplanes. Then everybody in Napville School got into accidents because they didn't listen to Officer Buckle. Then he brought a police dog named Gloria to Napville School. People got interested because the dog was behind Officer Buckle making people laugh. They weren't paying attention to Officer Buckle; they were paying attention to Gloria. Then one day, envelopes came to Office Buckle like "please bring your good dog, Officer Buckle". One very important day they were going to put Gloria and Officer Buckle on television. When he watched the ten o'clock news, he only saw Gloria on TV. He became very upset and angry and decided not to do speeches anymore. The next day he sent Gloria to the stage but no one was looking at her and then Gloria fell asleep. Then Napville School had the biggest accident ever! After that, Officer Buckle & Gloria forgot everything and started safety tips. Once they started safety tips again, the children in Napville School listened to him.
My opinion is that this is a very funny book because it has a lot of colorful pictures, and it's not a difficult book to read. I also think it has a lot of funny moments. I think this is a very good book for little children. In the book the things that Gloria, the dog, do might make a first grader or kindergartner laugh out loud while they are reading the story.
I recommend this book to little children because it has funny drawings in the middle of the story, it doesn't have a lot of difficult words in it, it is easy to read and there's a dog in the story. I also think kids would like Gloria if she was real because she's funny and makes kids laugh out loud. But if grown ups found out she was joking around she would be punished. She is also good enough to be a circus dog because she knows a lot of tricks. I think people like police officers would like this book too, because it's about a police officer and his dog.