A Week In The Woods
Written by Andrew Clements
Reviewed by Michael P. (age 9)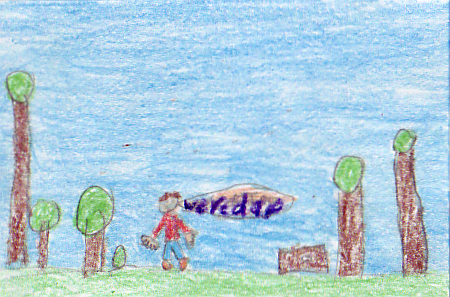 Mark Chemsley is a fifth grade student. His family is very wealthy and he is happy that he is going to go to a private prep school next year because he wants to learn more than he is learning now. However, Mark has a bad attitude because he does not care about the school he is in. When the fifth-grade goes camping for a week in the woods, Mark runs away into the mountain because he gets in trouble for something his friend did. He gets lost in the woods. Will he get out?
My favorite part was when Mark was lost in the woods and could not get out. It was my favorite part because it must have been spooky all alone in the dark. It was like when I got lost at a carnival. I was running around and finally found my family. I was scared when I was lost. Therefore, I know how he must have felt. My least favorite part was when Mark was looking at a tool that his friend brought that was against the rules. Mark got in trouble for what his friend brought. I know how that feels because when my friend was fooling around with a toy in class, I got in trouble too. I thought that was unfair. I found Mark to be a good friend at the end of the book because he was not being a show off and slacking off in school. For example, when the fifth-grade got back, he paid 100% attention and he did not show off by raising his hand all the time. I would like to be Mark because he is rich and probably would be able to get many video games. I would also like to be him because he is good in school and I would be able to finish my homework quicker than I do now.
I would recommend this book to kids ages 9 to 12 who like adventure stories and the author Andrew Clements. When Mark gets lost, the book gets adventurous, exciting and suspenseful.