The Cay
Written by Theodore Taylor
Reviewed by Cole D. (age 10)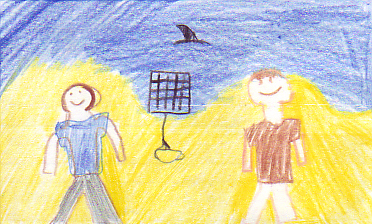 I am recommending The Cay by Theodore Taylor.
The book The Cay by Theodore Taylor is about somebody named Phillip who has always disliked African-American people. He lives on an island with his mom and dad. Unfortunately, war comes to the island so he gets on a ship with his mom, but the ship sinks after being shot at by the army! Phillip is knocked out by a piece of driftwood. When Phillip wakes up, he is on a raft with an old and strong African-American man. A few days later Phillip goes blind. Can Phillip learn to like black people and survive?
I liked this book because there was a lot of action throughout the whole book. My favorite part was when Phillip was grabbed by an eel and almost drowned. This part was my favorite because it was scary and exciting at the same time. In addition, I was scared that Phillip would die. Phillip changed a lot in this book because he hated black people at first and then he got to like them since he had to rely on a black man to survive. I was sad when I found out that Phillip hated black people because of there way of living and because of their skin color. This book is different from other books I have read because it starts out sad and is sad throughout the whole book, unlike other books with happy themes running throughout the entire book. This book is the same as other books because it has a happy conclusion like many of the books I have read. Unlike many other books, there are very few characters. You really have a chance to follow the main character through an unforgettable journey that can teach us all some very valuable lessons.
I would recommend The Cay because it is action-filled book from beginning to the end. However, at the same time it can stir up some unexpected emotions inside of you as you read. I would recommend The Cay to 10-12 year old students. This book would interest people that like to read about people trying to survive on an island and how they were trying to overcome many obstacles like catching fish and trying to survive a hurricane. People who like to read realistic fiction would love the book The Cay.