The More the Merrier
Written by Anne Mazer
Reviewed by Kaitlin N. (age 9)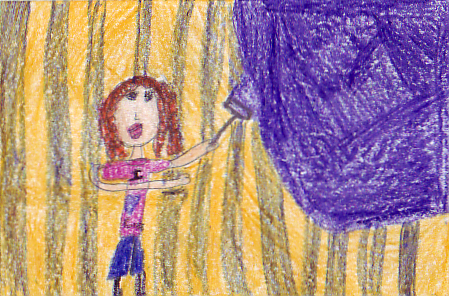 Abby Hayes, a fifth grader, has a boring bedroom. She's having a party for the beginning of summer. Abby's worried that the fifth grade won't like her room. Abby plans to repaint it herself. Will it be done in time? And if it is, will they like her new room? What will her parents think of her painting her walls without asking?!
I thought Alex, Abby's brother, was interesting because he's only in second grade and knows all about technical computer websites and nature. I like him because he's very funny and makes up jokes about Abby being clumsy. I'm not sure if I'd like to be Alex's sister because if I was his sister he would make fun of me. But, on the other hand, he knows all that computer and nature information so he could be helpful to me. My favorite part was when Abby saw the purple nail polish and decided to paint her room purple. I liked how she had that smart idea. Most people don't get brilliant ideas from nail polish. Abby's older sister Isabel was painting her nails. When Abby saw the purple nail polish she remembered her favorite color was purple so that's when she decided to paint her room purple. I think I'm like Abby because she's sort of shy but stands up for herself like me! When Abby sees the "popular crowd" [Brianna and Victoria] she gets really shy and doesn't know what to say. I think Abby stands up for herself because when Brianna said "Your party is going to be bad" Abby said "How do you know? My party will be great!" I would have done that too. That's why I think were alike. I would want to be Abby's friend because she always helps her friends out when they're in a rough situation. For example, when Brianna criticized Natalie, Abby stood up for Natalie. Another reason is because Abby is unique and I like people who are unique because they can share their ideas with me.
I think this book is for ages 8-10 because it's a pretty easy book to read and there aren't many sad things. I think boys probably won't like this book because the main character is a girl and there aren't many boys in this book. Most kids can relate to Abby because she just wants to fit in and lots of kids do too. You won't want to put the book down.