The Hardy Boys: Mystery of the Spiral Bridge
Written by Franklin W. Dixon
Reviewed by Anthony M. (age 11)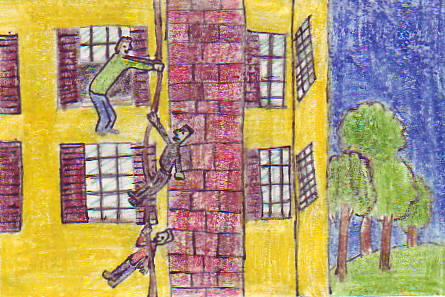 Do you have a keen eye for spotting clues and a knack for solving mysteries? If you do, then you have something in common with Joe and Frank Hardy, the main characters of the Hardy boy series. They often assist their father, Fenton Hardy, a world famous detective.
In the 45th book of the series, The Mystery of the Spiral Bridge by Franklin W. Dixon, Mr. Prito's company was building a bridge. It kept getting destroyed costing his company thousands of dollars. Mr. Hardy was on the case but he left it since he got drugged and lost his memory. His briefcase was also stolen. So, Frank and Joe had to take over. The boys and their friends go in as bridge workers and try to collect clues to solve the mystery. While collecting clues, they find out about a pink fiery light in the sky nicknamed Rosy. They think Rosy is connected to the crimes that have been taking place. Will the brothers ever solve the mystery of the bridge? Will they crack the case of Rosy? You'll just have to read The Mystery of the Spiral Bridge to find out.
The book The Mystery of the Spiral Bridge by Franklin W. Dixon is a great mystery book. I love they way Franklin W. Dixon writes these books. The plot captivates your imagination and takes it on a journey full of mysterious happenings. One example is Mr. Hardy being drugged and losing his memory. The author grasps your imagination by using juicy, descriptive words. The description pulls you into the book and creates a vivid picture in your mind. This is one of my favorite books because the events and clues in the story are so realistic that you feel like you are part of them. When the criminal climbed up the side of the Hardy's house, he mentioned every move both the brothers and the criminals made, making it seem real to me. In my opinion the books genre would be realistic fiction. Even though it is unlikely, this could happen to a person in real life, it could happen. Franklin W. Dixon makes all the characters are believable. They are believable because they act like ordinary detectives. I do not have a favorite character in this book, but I think if Joe and Frank were real, I'd like to meet them. I would like to ask them what helps them identify clues and what case they found the trickiest.
I would recommend this book to people who like mysteries and are between 9-12 years old (4th-6th grade). Students in fourth though sixth grade would enjoy The Mystery of the Spiral Bridge because it has a good plot and the author gives enough clues for you to predict suspects. This book might be too tricky for a third grader. This book has many advanced vocabulary words. These words would make this book challenging for third grade.