A-Z Mysteries: The Invisible Island
Written by Ron Roy
Reviewed by Molly M. (age 8)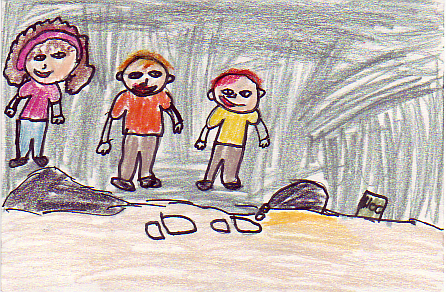 Do you like to solve mysteries? Well Dink, Josh and Ruth Rose do. In the beginning of this book, they are on the lookout for the counterfeiters that put Happy Heart dog food on Squaw Island. Do you want to know what's really in the boxes? You'll have to read the book to find out who the counterfeiters are and what's in the Happy Heart dog food boxes. Can you help them solve the mystery?
I loved reading The Invisible Island because I wanted to know how all the clues would go together to explain the mysterious things happening on the island. I did not want to stop reading. My favorite part of the book is when Dink, Josh and Ruth Rose find fake money on Squaw Island. This is my favorite part because it made me want to read more and find out who left the footprints and whose money it was. When I read The Invisible Island it had a lot of description and it made me feel like I was actually in the book. For example, when I read that Mr. Pinkowski was tall, sandy haired, and sported a droopy mustache, it made me feel like I was in the book looking at Mr. Pinkowski.
I recommend this book to all kids that are in grades 3-5. As I read this book I realized that I kept thinking it was one person. But by the end I thought it was a different person. This ending is unexpected! So go read the book!