Cam Jansen and the Mystery of the Missing Dinosaur Bones
Written by David A. Adler
Illustrated by Susana Natti
Reviewed by Miguel F. (age 8)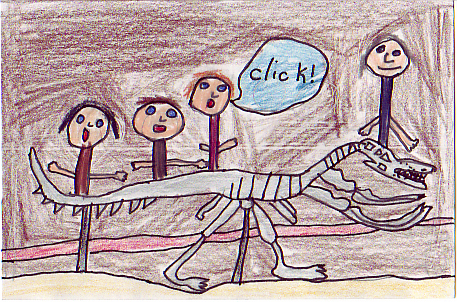 Do you like mysteries? Then you will like this book. Cam and Eric have another case to solve and it is the mystery of the three Coelophysis skeleton bones. How does Cam do it? She has a photographic memory. Find out what happens next in this exciting book.
I liked this book because the characters were acting funny and the mystery got tougher to solve as I got closer to the end. I really liked when the whistles that Eric got were not regular whistles. They had the Coelophysis dinosaur on them with the three missing bones. When Cam and Eric blew the whistles, dogs came running. That part was really funny. This book is part of a series. Cam and Eric always find a mystery to solve. Cam always uses her photographic memory to help figure out the mystery.
I would recommend this book to other third graders who like the Cam Jansen books. I really enjoyed this book a lot and I think they would too!