Third Grade Detectives: The Case of the Sweaty Bank Robber
Written by George E. Stanley
Illustrated by Salvatore Murdocca
Reviewed by Kyle V. (age 9)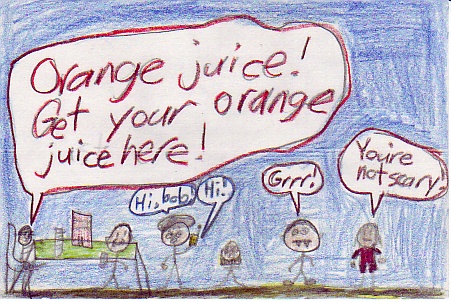 The story, Third-Grade Detectives #9, will probably blow your socks off! These two kids named Todd and Noelle, went to the local blood drive. They eavesdropped on Chief Douglas and heard that both banks have been robbed. So the kids went to one of the banks and talked to Chief Douglas. He said that they couldn't go in. The next day at school Todd and Noelle found a suspicious handkerchief in the principal's office. Could Chief Douglas be the one who robbed the banks?
This story is a good book. It had an awesome beginning. As soon as I read the first sentence, I couldn't stop reading it. I wanted to know more about the characters. One of the characters, Todd, reminds me of one of my friends, Jack Sommer. He has the same face, eyes, ears…EVERYTHING!! The author, George E. Stanley, describes everything about Todd. For example, Todd has the same good attitude and is serious like Jack. My favorite part of the story was when they solved the crime. One of the suspects I thought was most guilty wasn't the robber! The ending was unexpected. Let me tell you, it would almost be impossible to solve who the suspect really is before the ending. If you want to know who the suspect is, read the book to find out, seriously, do it!
I recommend this book to 2nd-5th graders. It would be too hard for 1st graders. And it would be too easy for 6th graders. If you're in 3rd-4th grade, this would be a just right good book (Read it, already!) This book really gets you thinking about solving mysteries.