Pixie Tricks The Angry Elf
Written by Tracey West
Reviewed by Casey W. (age 8)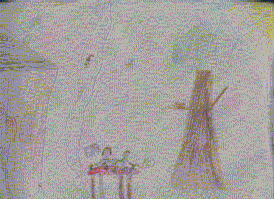 The Angry Elf is a good book to read. It is about a girl named Violet and a pixie named Sprite. Sprite lived in a tree in Violet's backyard. He met Violet and asked her for help because 14 bad Pixies had escaped from the other world (Sprite's home). Violet's cousin Leon found out and he decided to help too. Violet found two pixies that had escaped and Sprite found the curse that would bring them back to the other world. The names of the pixies that escaped are Rusella, the mixed up message pixie, and the Angry Elf. It all starts when Violet goes to a birthday party, and all the presents are mixed up. Violet has a feeling that one of the escaped pixies is up to something. When Violet goes home she meets a pixie, the Angry Elf. He explains that all the hard work he does goes wasted because the children soon forget about all the toys he makes. Then, while Sprite is looking in his book, Violet has an idea. she will invite the Angry Elf to a picnic, but as she is ready to give the invitation Rusella turns up. Violet invites her to the picnic too. Rusella's curse is eating alphabet soup. On the day of the picnic, Violet is nervous. Will her plan work? Find out when you read the book!
My favorite part of the book was when Russela was tricked. My favorite character in the book is Sprite because he is brave and funny.
I like to read all of the books by Tracy West and I liked this one very much. I hope you read it!