We'll Never Forget You, Roberto Clemente
Written by Trudie Engel
Reviewed by Joseph N. (age 10)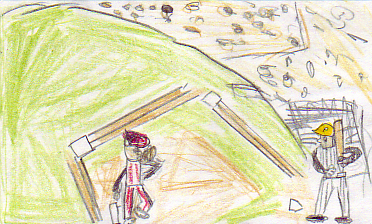 I am recommending We'll Never Forget You Roberto Clemente by Trudie Engel.
The book We'll Never Forget You Roberto Clemente tells the life story of a great baseball player. Roberto Clemente grew up in Puerto Rico. Roberto's family was very poor and he learned that you must learn to do things by yourself so he was very independent. Because of this, he learned how to play baseball. Roberto was spotted by scout from MLB and was offered a contract while still in Puerto Rico. Clemente caught the attention of MLB and signed with the LA Dodgers. The Pittsburgh Pirates drafted Roberto Clemente. He helped lead the Pirates to win the NL pennant and then the World Series. If you have ever dreamed of being a baseball or softball player then this will be a good book for you.
My favorite part is when Roberto hit a single in the World Series because he hits two runs in. This put his team in the lead. The reason I liked this part is because it helped the team win the World Series. My mom reminds me of Roberto because she had a hard life just like Roberto did. She was poor like Roberto. But, this did not stop my mom or Roberto from achieving their dreams. Roberto Clemente reminds me of Babe Ruth because Babe was poor too, even though he lived in the USA. Babe had more opportunities, but he still had a hard life. They both had bumps in the road but they both found a way out, and eventually both became great ballplayers. The story of Roberto Clemente reminds me of my life because we both had bumps in the road. Like Roberto, I learned that life can be hard and we need to deal with it. Roberto had to earn money for a bike and I have to earn my allowance by doing chores and just helping around the house. While I was reading, I felt different emotions. I was happy when the Pittsburg Pirates drafted him, but I was sad when I read the ending. I also felt really bad that he was so poor, but I was glad that he got a chance to achieve his dream. He never forgot his homeland and he took time from his busy life to help others. That made me really happy. Roberto wasn't one of those big shot baseball players who only cared about themselves and the money they would make. Roberto spent time helping others back in Puerto Rico. This book teaches that you need to work for all things you want in life.
I would recommend this book to boys and girls ages 6-11 because if you want to become a baseball/ softball player than you need to hear the real life story about the greats of the game. If you like baseball READ THIS BOOK! It is a heartwarming true story. If you have ever wanted to be inspired by a true great of the game read this book.