Stone Fox
Written by John Reynolds Gardiner
Illustrated by Marcia Sewall
Reviewed by Daniel K. (age 10)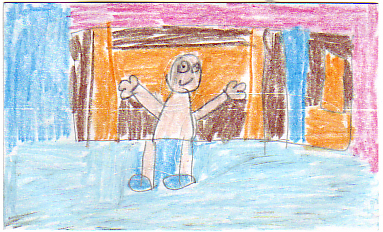 In the book Stone Fox, the main character's name is Little Willy. He lives on a farm in Wyoming with his grandfather. His Grandfather becomes very sick and might even die. Willy wants to save him. Little Willy decides to enter a race to win the money to save the farm and his grandfather. Little Willy knows the racetrack better than anyone else does. Will this help him win? Will it save the farm and grandpa? Everyone is on Little Willy's side during the race. Will this be enough?
I like the book Stone Fox because every chapter builds suspense. As a reader, some moments might break your heart and some will make you laugh for joy. You think grandpa is going to die. You wonder if Little Willy is going to win the race. I could hardly put the book down. I was glued, I never wanted to put the book down. I wanted to find out why grandpa wanted to die even though he had so much fun with Little Willy. I found Little Willy interesting because he is a hard working little kid and he always has a smile on his face. He will do anything to get grandpa healthy again. He tries to harvest the crops, enters a race and makes Searchlight work so hard, all this is hard to save grandpa. Little Willy even uses his own college money to enter the race. He is a courageous little boy. He is silly to do all the stuff he has done. Little Willy changed because of his of grandpa's sickness. In the beginning of Stone Fox Little Willy was a kid doing all the things that kids do. Playing with his friends and playing with Searchlight were some f his favorites. As the book moved on he had to act like a grown up by getting the food and harvesting the crops. He needed to get the money for the race on his own. Guardians are supposed to do that. He is harvesting the crops and getting the food. On top of all that Little Willy is taking care of his grandfather. I felt sad as I read this book because Little Willy had so much fun with grandpa he would listen to his grandpa play the fiddle. His grandpa now wants to die and Little Willy is the only one left to help his grandfather. This is sad that the only family he has left wants to leave him for no reason. In Stone Fox I wondered why Little Willy's grandfather wants to die. They had so much fun and I thought there was no reason to want to die. I also wondered if Little Willy was going to win the race, or was he going to lose the race after a tragic accident occurs.
I recommend this book to boys in grade 3 and 4 because the vocabulary might be hard and the events might be hard for younger students to understand. This book may be too easy for fifth graders though. I also recommend this book because of the qualities the author includes, one is the lesson learned. I learned even if you win something you might lose something in return. This book is excellent. I say this is a five star book. I hope that you love it as much as I did.