Welcome to Dead House
Written by R. L. Stine
Reviewed by Sklyer P. (age 9)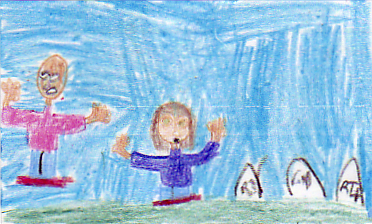 I am recommending the book, Welcome To Dead House, by R.L. Stein. This story is about main characters named Amanda and Josh. It takes place in the town Dark Falls. The problem is that all of their new friends are not like they are. They can still play and talk to the people in their neighborhood, but they are strangely different. One important thing that happened is that they find out that their dog Peter is dead, but they did not know this not know until SOMEOME FROM THE TOWN told them! What will happen? Will they need to move away from dark falls? Read this book to find out more!
My favorite part was when Amanda and Josh find head stones for some of the people in the town. Amanda and Josh changed. By the end of the book they stopped playing jokes on each other. In the beginning of the book, Amanda pretended to be hurt and hid in the closet. Her brother Josh screamed like a little girl. After they got in trouble and realized how scary the jokes were, they did not play jokes on each other any more. As I read the book I got scared because I didn't expect the living dead to be in the book. Amanda reminds me of myself because we are both smart and can figure out things fast.
I recommend the book Welcome To Dead House to boys in grades 4th-6th. This book has gruesome details that may make you have nightmares. If you get scared easily, this would not be a good choice. But for all those thrill seekers out there that love to be scared, this is the best book ever.