Otherwise Known As Sheila The Great
Written by Judy Blume
Illustrated by none
Reviewed by Anna C. (age 9)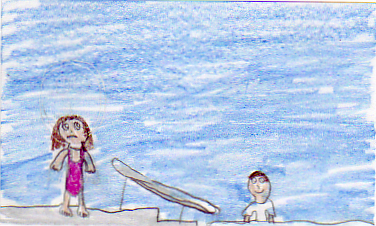 I am recommending Otherwise Known as Sheila the Great, by Judy Blume.
Have you ever moved to a boring old town over the summer? Sheila Tubman, otherwise known as Sheila the Great has. Just for the summer months Sheila and her family move to Terrytown into a spacious house. Although it seems likes heaven compared to the old cramped apartment, Sheila is given a boys room. But then again, she has no choice! All the rooms are for boys! The gorgeous princess room Sheila imagined has evaporated into thin air! Will Sheila's lonely summer be turned upside-down? Or will Sheila be stuck sulking in her boy's room?
I liked this book because of all the funny situations Sheila gets into. I nearly fell off my chair laughing when Sheila went to play hide and seek in the Mouse House (aka, Mouse's house). This story reminds me of my own life, especially when Sheila walks up 10 flights of stairs to avoid a dog! I'm afraid of dogs too, no matter how big or small, so I could really relate to that! My favorite part was when Sheila went to her swimming lesson and was convinced she would drown so she refused to get into the pool so she practically had to get carried into the pool by her swimming instructor! I thought my sides would split from laughing so hard! This book is like other stories by Judy Blume because each situation could really happen and comes mainly from Judy Blume's childhood experiences. If you have siblings, you've probably been in similar situations as all of Judy Blume's characters. The books are all quick and light too. This is because they really put you in the story and make you feel like you're there with all the characters. The ending of the book really drew me in and explained everything like the end of summer party and gave specific details on every event, even little ones like the grill. Like when the author wrote, "I struck out the first two times, but the third time I hit a fly ball towards first base, which Libby dropped. Before she could pick it up, I was safe at first." That really set a scene in my mind. My reaction to that was to laugh at first, but then I felt bad for Libby since I drop the ball sometimes when I'm playing baseball. Sheila captured every moment and took it and described it in slow motion, giving you a clear picture in your mind. Sheila looked deeper into each person and saw them differently than before. Instead of a swimming teacher who tortured her by making her have a beginner swimming test, Sheila saw Marty as a kind young man who tried to help everyone. I really hope there is an Otherwise Known as Sheila the Great 2 coming out soon!
I recommend this book to children 8-10. This is because it's based on a 10-year-old's life and most kids 8-10 can relate to it because all the issues Sheila gets into are everyday problems that kids ages 8, 9, and 10 can face. If you like humorous realistic-fiction books, you'll love Otherwise Known as Sheila the Great!!