Doll People
Written by Ann M Martin
Illustrated by Brian Selznick
Reviewed by Rachel M. (age 9)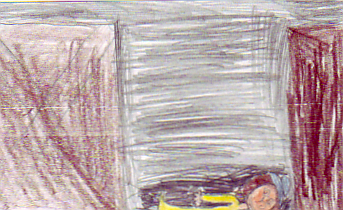 The book titled the Doll People, was written by Ann M. Martin and Laura Godwin. This book was also illustrated by Brian Selznick. The Doll People was one of the best books I have read during my fourth grade school year.
Night falls, and in Kate Palmers room, (the owner of the dolls) something magical happens. Her dolls come to life! But no human knows, should know, or will ever know. Annabelle Doll (the main character) has a very boring life. She has been sitting in a dollhouse for over one hundred years. If she goes out and gets caught, she might not be able to move or live in doll ways any more. She won't be able to walk around and speak when humans aren't there. Is it worth the risk? Would that affect Annabelle's family? But one night Annabelle finds her aunty Sarah's journal. She finally remembers that Aunty Sarah is missing. When Annabelle ventures out of her house for the first time, she meets a new family of dolls. The Funcrafts. One of the Funcrafts, Tiffany, who is Annabelle's age, finds out about Aunty Sarah and her journal. The two curious dolls take an adventure throughout the Palmer's house to find Aunty Sarah. Will they find her? Or will they not?
I enjoyed the Doll People because it was adventurous. There was always something you wouldn't expect. Like dolls walking and talking. My favorite part was when Tiffany and Annabelle found Aunty Sarah. They ventured out into the Palmers house all alone and end up finding someone who has been missing for over 55 years. Imagine what it would be like having someone missing for that long. I would be worried sick! Annabelle is like me because she is very cautious about what she does. When she ventured out of the dollhouse for the first time, she stopped after every step she took to see if someone was coming. Once when I was sneaking out of my room after I was punished, I never repeated steps. This book is a part of a series. It is like it's companion The Meanest Doll in the World. There is always something exciting going on. For example, in The Meanest in the World, Annabelle takes an adventure to a new place, the bathtub. I thought it was very suspenseful. There were always twists and turns and it all works out in the end, as it did with the Doll People. I felt very excited as I read the Doll People. I was always ready for a new adventure. I wondered where the next journey would take me. I always felt like the author had me in a rope and was pulling me toward the book making all my questions come together. There was always places the dolls went that you would never think they would go to. For example, never in a million years would I have thought that Tiffany and Annabelle would go into the palmer's cat's bed to look for aunty Sarah.
I recommend this adventurous book for ages 8 and up. If you like adventure with a fantasy, suspenseful twist, then this is the book for you.