MVP
Written by Douglas Evans
Illustrated by John Shelley
Reviewed by Justin H. (age 9)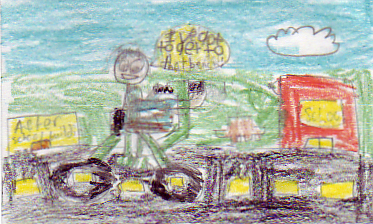 I thought the book titled MVP, by Douglas Evans was one of the best books I have read. MVP is a very suspenseful book filled with the danger of a big global challenge. Douglas Evans takes you on a dangerous journey through the world.
Ever wonder what it's like to travel the world in less than 40 days? Adam Story knows what its like. Adam Story is a 12 year old kid who on his 12th birthday begins a journey that will keep you on the edge of your seat. Adam thinks it's just a normal day, until someone comes and changes that. That person is King Mumumu. King Mumumu is like Adams coach throughout this book. If Adam loses King Mumumu will not be able to be a king anymore. This book shows how Adam Story travels the world in a great global game. He must travel around the world in less than 40 days. The prize $4,000,000. Will he make it? He gains companions friends and sees major landmarks around the globe. This adventure will change Adam's whole life. Will Adam be the MVP?
My mind raced with thoughts and reactions throughout this book. My favorite part was when Adam was racing to the finish. I was very nervous wondering if he will make it or not. This was my favorite part because it determined if this journey would be failure or a success. I really liked Adam in MVP because he would always do something unexpected. For example, on the boat he threw his GPS system into the water. I felt scared when this happened because he needed his GPS system to let his team know where he is. I also felt a little annoyed because Adam was naive enough to throw something extremely important and something that can help him win the great global game. I also liked Adam because of his spirit of adventure. No matter what happened he never gave up. Adam reminds me of myself. Knowing that the main character can relate to me I am happy. Adam reminds me of myself because Adam and I both have a great spirit for adventure. We also have great friends who help each other out. Adams friend Meredith has changed a lot throughout this book. She changed from happy and friendly to mean and grumpy. She changed because she was tired of going around the world. Also, because she just escaped the stoppers and is tired of hearing Adam blab on and on about nonsense. Meredith never has the same emotions for too long throughout the book.
I strongly recommend MVP to 4th through 7th graders who have a passion for adventure. Strap yourself into your seat and hold on because you are going to take the adventure of your life.