The Kingdom Keepers
Written by Ridley Pearson
Reviewed by Caitlin M. (age 9)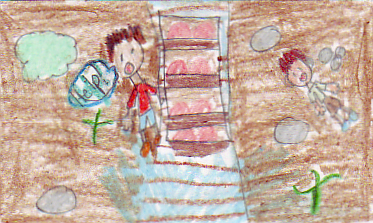 The book I reviewed is called The Kingdom Keepers. The novel was written by Ridley Pearson. I reviewed this book because of all the suspense and detail. It was my favorite book in my fourth grade school year.
Will he do it? The Kingdom Keepers main character Finn an average teenage boy has just been invited to be a Disney Host Interactive or DHI. This is a special job. Only four other people have been offered the job. Their job is to find out the Disney secret and battle Disney's classic villains. Throughout the book they find all different tunnels and secret passage ways to make their job easier. The problem is that the kids have to face Disney at night after the park closes in the heart of Magic Kingdom. So there is no one around to help. Exept Wayne, the park keeper. He will appear at the weirdest times. Wayne will only give them small hints to the mystery along the way, to keep the reader thinking about what might happen next. All five kids learn to work together and overcome challenges. Everyone faces problems that they individually have to face and ones they have to face together. This suspense filled thriller takes Disney's enchantment and adds its on twist on an inviting back.
I loved the Kingdom Keepers. My favorite part was the ending because the DHI's could finally work together. I was sad when I finished my book because it was an exciting novel and I wanted to read more. I thought this book was very suspenseful. For example, at the end Finn battles Malecifant. Ridley Pearson describes everything he mentions. For example," Finn saw a pair of four foot tall chipmunks" He really is describing with exact detail. Or "He unrolled the faded blue prints of the park." Ridley Pearson really stretched out the sentences. That really caught my attention. This book takes place at Walt Disney World. This is a unique part of the book because lots of kids have been to Disney so they will be able to relate. The main characters are always going on the rides or battling the characters. I picked this book up because I knew it was about Disney and I could tell I would be able to relate to it because I have gone to Disney just like many other kids. This book is an absolute page turner because there is a new surprise on every page. For example, when the DHI's figure out that the clues were hidden in the rides. Then you can imagine the main characters on your favorite rides. The journey was really fun for me to follow.
This is a suspense filled book. If you're ready for a mysterious book with a fantasy twist then you would love this book. Especially people who have been to Walt Disney World. I really recommend this to students in grades 4 through 7.