The Bad Beginning
Written by Lemony Snicket
Illustrated by Brett Helquist
Reviewed by Jenna B. (age 10)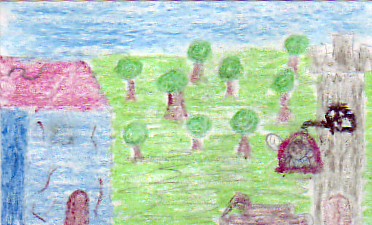 The mysterious, suspenseful book The Bad Beginning is illustrated and written by Lemony Snicket. I reviewed this wonderful book because it shocked me with every page I turned.
Do you like a mind bobbling ending? If you liked to be surprised by what Lemony Snicket was writing on every page you turn? Then read The Bad Beginning, it's the right book for you!
This exciting book is about three orphan children named Violet, Sunny, and Klaus whose parents die in a fire. The children are sent away to a man named Count Olaf who happens to be their relative in some way. The house the children lived in before was much nicer than Count Olaf's home. Count Olaf's home is a nightmare compared to there old house. Creepy walls, cracked pictures, and mostly everything is dull. Count Olaf is planning to steal the Baudelaire (Violet, Sunny, and Klaus) fortune. These smart-aleck kids are always spoiling the evil Count Olaf's plans. But will they get away when Sunny is in danger or will they fail and get thrown out on the street? Read the book and find out!!!
The Bad Beginning is a book I never wanted to put down! The part when Sunny was in serious danger I was so terrified. My mind went crazy with questions like "Is this the end for Sunny?, or would the rescue attempts to save their family fortune fail?" The most suspenseful part is when Count Olaf got away from the police I thought he would go after Sunny, Klaus, and Violet or go after the fortune again? I had no appetite for a week when I saw the picture of Count Olaf in the book, it was so unpleasant. I thought and thought about why Violet said "I do" to Count Olaf to marry her. She was trying to do the right thing and save Sunny's life. She knew Count Olaf would send the Baudelaire children out on the street. That is what I liked most about the book. This book was odd because there is not a happy ending like most stories have. The story kept going on in my mind and I was always wondering what would happen next. I was even more shocked when I actually read Lemony Snicket's words from page to page.
I recommend The Bad Beginning to kids who like suspenseful books. This book is for kids in grades 3-5. If you are a person who likes suspense the part where Sunny's in danger will get you to never put down this book!!!