The Kid Who Ran For President
Written by Dan Gutman
Reviewed by Connor G. (age 10)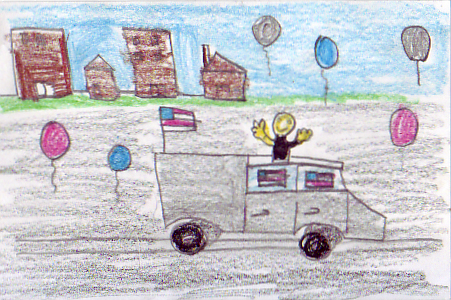 Judson Moon is just your everyday 12 year old kid from New York City until he gets a crazy idea from his elderly friend, Mrs. Syers. "Run for President" she says. He picks his campaign manager and they are off to try and change some laws and free all kids from homework. But as soon as the voting begins he notices it's not all fun and games. He must overcome his fear of public speaking. Will the pressure get to him? Or will the fame? Can he possibly win?
I think Judson is interesting because he was outgoing and he was brave. He stayed in the race even though he was starting to lose in the polls. He never gave up and he made it to the General Election. This book made me feel like I could do anything, because if a child could change a law and have a chance at being president, anything is truly possible. I think this book can make anyone more self-confident. My favorite part of the book was when they were at the party and were waiting for the results from the General Election. The suspense was killing me when I read this part. I could not wait to turn the page to see who won. This book reminds me of another book titled No Talking. These books are the same because the kids take control. In No Talking, kids do not talk for days and adults get mad. In The Kid Who Ran for President the adults are angered because the kids bug their parents until they vote for Judson.
I would recommend this book to kids who like politics. This book is great for boys and girls ages 9-11. It may be confusing for younger readers because of the theme.