The Box Car Children: Mystery at the Fair
Written by Gertrude Chandler Warner
Reviewed by Sydney S. (age 11)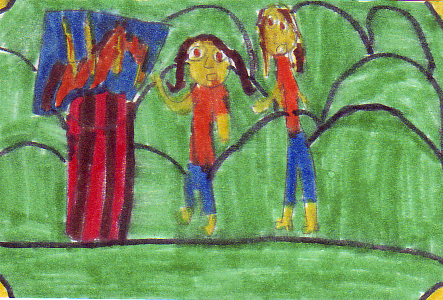 Do you like mysteries? If so, this book is good for you. Jessie, Henry, Benny and Violet want to buy an expensive book for their grandfather but they don't have enough money. They find a sign up sheet for the fair contests and they decide to enter to try to win the money to buy the book. Henry and Benny will bake a pie, Violet will paint and Jessie will make jewelry. When someone rips the sign-up sheet, ruins the pies, cuts up the jewelry and puts yellow streaks of paint on Kristie's artwork, the kids become worried. Will Jessie, Henry, Violet and Benny crack the case or will this be their first failed mystery?
I thought the book was the best mystery I have read. It is an interesting book because there are lots of suspects and I like to pretend I'm a detective. My favorite part is when the detectives find out who the thief is. I like this part because I love finding out who the thief is and if I'm right. This time, I guessed correct! My favorite character is Violet. She's my favorite because she's an artist and so am I. She is the youngest girl in the family and she is a great detective. A character I found interesting was Susie Marintinni. She was a big suspect to me. There are some clues that make her a big suspect.
I recommend this book to good readers in grades 2nd-4th. The author introduced all the suspects suspiciously. It's hard to figure out because there are two main suspects. It is a fun mystery for kids so go read it.