A Week In The Woods
Written by Andrew Clements
Reviewed by Maddy S. (age 9)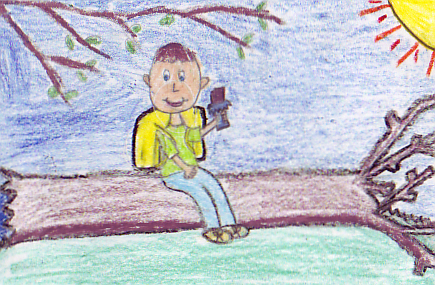 Mark Chelmsley is a rich fifth grader who lives in Scarsdale, New York with his mom, dad, and two nannies named Leon and Anya. It is about the middle of the school year when Mark has to move to Whitson, New Hampshire. He is not happy about having to move to a new place, starting a new school, and making new friends. The fifth grade program, A Week in the Woods, is about to start. It is when all of the fifth graders camp out on a campsite for a week. On the trip his teacher, Mr. Maxwell, finds Mark with a knife that belongs to his new friend Jason. The teacher thinks it is his. Mark is facing the blame and is told he's being sent home. When Mr. Maxwell is not around Mark sneaks out of the truck and runs away. Will Mr. Maxwell ever figure out the truth about the knife, but most importantly find Mark?
My favorite character in the book is Mark. I like Mark best because he is very brave and I wish that I was as brave as him, but I'm not. For example, Mark was brave enough to camp out in the woods where he has never been before all by himself. I also like him best because when his teacher Mr. Maxwell didn't like him he tried to change Mr. Maxwell's opinion about him. That shows that Mark wanted Mr. Maxwell to like him. I think that that's very responsible. Mark reminded me of myself. This is because when Mark first moved he was mean and didn't want to make any new friends. That was exactly the way that I acted when I first moved to Trumbull. Mark and I were acting that way because we didn't want to move and we wanted our old friends back. My favorite part of this book is when Mark and Mr. Maxwell found each other in the woods. I liked it because that was when Mr. Maxwell figured out what a great person Mark was. When Mr. Maxwell accused Mark of having the knife I felt really bad for Mark because the knife was not his. I also felt mad at Mr. Maxwell for not liking Mark in the first place. When Mark and Leon camped out in the woods it reminded me of when the Girl Scouts camped in the tents inside Camp Candlewood. This is because when I read that part of the book I could picture everything in my head. I felt like I was there with them.
If you like the wilderness and like to wonder about it, then this book is great for you. I recommend this book for children ages 9 to 11. You will never want to put this book down. Enjoy.