The School Story
Written by Andrew Clements
Reviewed by Jessica O. (age 10)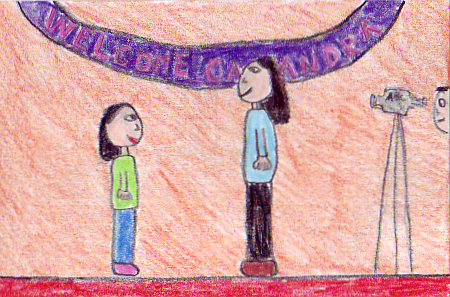 Natalie is a sixth grader who lives in New York City with her mom who works at a publishing company. She loves to read and write and always doubts herself. But her friend Zoe doesn't want her to doubt. One day she starts writing a novel and Zoe reads what she has written and thinks it's good enough to publish. Natalie doesn't think so, but Zoe soon pushes Natalie to have it published. When business starts, trouble comes. The two best friends want the story to be published anonymously. Will they be able to publish the story without her mom knowing?
I like the character Zoe because she is funny, outgoing, and clever. For example, she thought of the idea that Natalie could use a pen name. Also she never gives up. For example, when Natalie was going to give up on publishing the book, Zoe gave her a boost to keep trying. I really like Zoe as a person and I would want her as a friend. This is like other books by Andrew Clements because it's a school story and he wrote many other school stories. He makes most of his stories happen at school so kids can relate to them. I can relate to this story because I go to school too and I am around their age. One of my favorite parts is when Natalie's mom found out she could edit Cassandra Day's (Natalie's) book. I liked this part because it made me feel happy for both Natalie and her mom, Hannah. What made me feel especially happy is that Hannah's mean boss didn't get to edit it. In this book it sounds like kids are really talking. You can tell their personality in what they say, like in real life. For example at one point Natalie said "I know that's what the contract says… but you should get a lot more than that. I mean, without you, that story would just be sitting in a pile at my house." I could see Natalie looking a bit embarrassed and smiling.
I recommend this book to ages 9-12 and boys and girls who like stories that happen at school. If you like brave, talkative characters you will love this book.