Tales of a Fourth Grade Nothing
Written by Judy Blume
Illustrated by Roy Doty
Reviewed by Kelliann M. (age 10)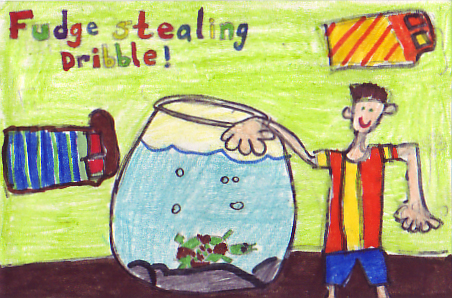 Do you have an annoying little brother? If so, you can relate to Peter in the book Tales of the Fourth Grade Nothing by Judy Blume. In this book, Peter has trouble with his little brother Fudge who throws temper tantrums, chews on socks, and steals Dribble (Peter's turtle). Peter won dribble at a friend's birthday party and hopes Fudge does not do anything to hurt him. He does not trust his brother because Fudge cause trouble wherever he goes. Does Fudge hurt dribble? Does everything work out? To find the answers to these questions and learn about other messes Fudge gets into, read this awesome book. Will Peter survive his annoying little brother? Read to find out!
In this book, I can understand how Peter feels. I have a little brother just like Fudge. My little brother would do most of the things Fudge does in the book. For example, he steals my hermit crab just like Fudge steals Peter's turtle. This book is also in a series called the Fudge Series. If you were to read one book in the series, pick this one. It is the funniest one. Fudge is young and does not know right from wrong which gets him into trouble but also makes you laugh. I believe this book is realistic fiction because everything that happens in the book could happen in every day life. I love the way Judy Blume wrote this book. She includes tons of action, which kept me on my toes. Her writing style keeps the reader flipping the pages to read what will happen next on the action packed page.
I recommend this book to any older sibling who has a little brother or sister that is big pest. The will feel good knowing that there is someone else in the world who knows exactly how they feel. I also recommend this book to any teacher who looking for a good read aloud. My 4th grade teacher read this book to the class and everyone loved it, besides most children have siblings and can connect to the characters in this book. If you love hearing about kids getting in trouble and doing funny things then this book is perfect for you!