The Secret Garden
Written by Frances Hodgson Burnett
Illustrated by Tasha Tudor
Reviewed by Meghan M. (age 10)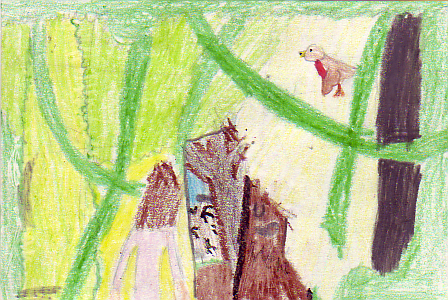 "Mistress Mary quite contrary …" Mary lives in India where it is hot and sticky every day, her parents could care less about her, everyone one thinks she looks sickly and ugly, and her ayahs' who are her servants hate her. If you were Mary, you'd be quite contrary too. To top it all off, when disease strikes India, Mary is shipped to the English countryside (which she claims to hate) to live which her miserable uncle. In England Mary is completely alone except for Martha, the housekeeper who she is secretly warming up to. Then one day she goes outside into the gardens. In the gardens, she finds a secret that hasn't been seen or entered for ten years. As her adventures continue, life seems to get better. She makes a friend and at the same time, she discovers another secret within the walls of Misselthwaite Manor. What are Mary's secrets? And will they help her and her uncle? In The Secret Garden by Frances Hodgson Burnett, all of these answers are uncovered.
I loved this book because I loved the way the author, Frances Hodgson Burnett, used descriptions in the story. For example, the way she made the image of small, thin, sickly, Mary pop into my head. I like the way the author helps me visualize. I also like the great surprises the author gives the reader and I'm sure you'll love them too. There are page-turning descriptions of the events that happen. The suspense makes you want to keep reading. I think that I am like Mary because we are both stubborn and want things to go are own way. For example, she doesn't take no for an answer. Once in India she even stared down a snake because she could. Connecting with Mary made this book more enjoyable because I could understand her feelings. What surprised me most was that I did not have a favorite part of this book. Usually I have a favorite part but I loved every part of this book.
I would recommend this book to ages 8 to 25 or any one who likes a good book because The Secret Garden is a hard read but has a little bit of most genres, so will appeal to everyone.