Charlie and the Chocolate Factory
Written by Roald Dahl
Illustrated by Quintin Blake
Reviewed by Dana S. (age 10)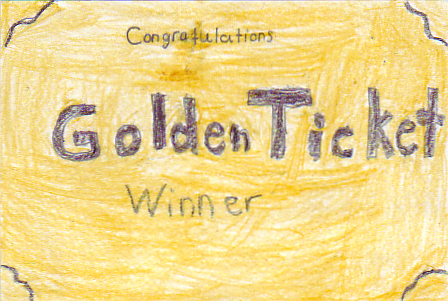 What would you do if you found a golden ticket inside your candy bar? Charlie was happier than ever. Charlie is a poor boy and when he walks to school, he sees Willy Wonka's chocolate factory. He wants to go to the chocolate factory so bad but nobody is allowed to go in. Mr. Wonka makes the best candy bars in the world but poor Charlie only gets a candy bar once a year. Can you imagine only having a candy bar once a year? One day Willy Wonka hides five golden tickets inside five candy bars. Five lucky kids find a golden ticket and get to see the factory. Will the four other tickets fall into the wrong kids' hands? If they do, what will happen to the 4 unlucky kids and what will happen to Charlie?
Charlie and the Chocolate Factory has always been a favorite book. I love seeing what happened to the bad kids. My favorite thing that happened to a bad kid was when Violet turns into a blueberry. That part is funny. The descriptions are so good I could see it in my head.
Another favorite part is when Charlie finds the golden ticket. It is my favorite part because Charlie really wants a golden ticket and he was so happy when he found it. I was happy for him too.
I also loved right when Charlie entered Willy Wonka's factory. It was just how I pictured it. However, there were times in this book when I was mad at Willy Wonka. He just seemed to make some really stupid decisions like when he let all the bad things happen to the bad kids.
Charlie and the Chocolate Factory is a great book just like the other Roald Dahl books. His descriptions in each book are so realistic I can see and hear things in my head. It makes me want to read more. Most of his main characters are kids who solve the problems for adults.
I would recommend Charlie and the Chocolate Factory to people who like watching bad things happening to bad kids and people who like adventures and candy because this book is about an adventure in a chocolate factory. I would also recommend this book to people who love good descriptions. Charlie and the Chocolate Factory is a great book.