The Powder Puff Puzzle
Written by Patricia Reilly Giff
Illustrated by Blanche Sims
Reviewed by Katie R. (age 9)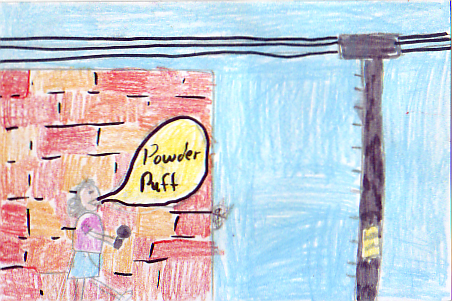 This book is mystery. The main characters are Dawn, Jason and Powder Puff. Powder Puff, the cat, gets lost. The cat jumps out of Dawn's arms and into a car. Jason and Dawn go looking for the cat. They collect clues to help find the cat but I can't tell you the rest. Will the cat ever be found? You will have to read to find out.
There are many reasons I enjoyed this book. I thought this book was interesting. It was interesting because Dawn's friends didn't care about Powder Puff and he was the main character. I like the character Powder Puff because he reminds me of my cousin's cat. She ran away just like Powder Puff. Also when I was reading this book each time they talked about how hot it was outside, it made me wish it was hot because it was freezing when I read the book. This book has great pictures. The pictures help me visualize what is happening in the story.
I recommend this book to anyone who likes cats because this book is mainly about a cat. People that love cats will keep reading this book to find out what will happen to the cat by the end of the story. I also think people who like mysteries will enjoy this book because you don't know what will happen next in the story. This is very suspenseful.