Diary of a Wimpy Kid: Rodrick Rules
Written by Jeff Kinney
Reviewed by Spencer H. (age 9)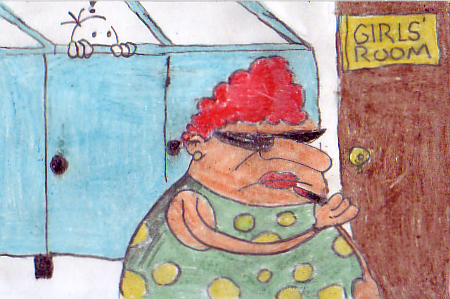 Are you the middle kid in your family or have you every wondered how it feels? Well if you do, you should read Dairy of Wimpy Kid, Rodrick Rules by Jeff Kinney. This book is about Greg and his older brother Rodrick's relationship. When Greg writes in his diary, he usually writes about how school went or how Rodrick is being a jerk. Greg always tries to find the easy way out of things he does not want to do. If you want to find how Greg deals with his brother, read Diary of Wimpy Kid, Rodrick Rules.
There are many reasons why I like this book, but I will start out with why this book was so funny. Greg had to work with a first grader for the talent show. Greg just sat there doing nothing. He made the first grader look like a goof. The author put in many great descriptions like the one when Greg was stuck in the girls' bathroom. The author described how Greg felt. I can relate to Rodrick because I am the older brother in my family and it gets annoying when my younger brother tries to get back at you. I knew how Rodrick felt when he gave Rowley and Greg drum lessons. Finally, I liked this book because of how the author used cartoon sketches to give you a better idea of how Greg felt.
This series of books is written like a diary. When people keep diaries, they mainly write about their lives and how they see the world. That is what this book is like too.
I would recommend this book to kids age eight to eleven especially the middle kid in a family because Greg is the middle kid in his family. They would know exactly how Greg felt.