Judy and Stink, The Holly Joliday
Written by Megan McDonald
Illustrated by Peter Reynolds
Reviewed by Vivian F. (age 9)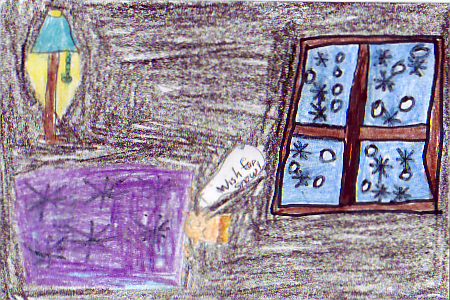 In this story, it is Christmas time and Stink only wants one thing... snow! But in Virginia it hardly ever snows. Stink still has his hopes up. As for Judy, Stink's older sister, she also wants snow but she thinks there is no way Virginia is going to have snow this year. One day there was a new mailman named Jack Frost. Stinks thinks Jack Frost is the one who makes snow. So, one the day when he receives a package from Jack Frost, Stink asks for snow. Will Stink get his wish or is Judy right? Read the book to find out.
I enjoyed this book for many reasons. I like this book because I get to understand Judy's and Stink's feelings unlike in other books. This book is different from the other books because in this book both Judy and Stink's feelings show. One part I found funny was when Frank brought his real live parrot to be in the play. The parrot was supposed to sing "a parrot in a palm tree." Instead, he sang, "Mary had a little lamb". This made me laugh aloud.
This book is part of the Judy Moody and Stink book series. What I like best about the book was Judy was in a good mood throughout the whole book. Usually she is some kind of a nasty mood. Usually in the Judy Moody books, it tells the point of view of Judy and I feel angry at Stink. In the Stink books, I feel angry at Judy.
I would recommend this book to people who like the Judy Moody series or people who like realistic fiction. I think this book would be good for kids in grades 3 to 5 because it would be too easy for a 6th grader and it would too hard for a 2nd grader.